NEW UPDATE
DCE has been closely monitoring the Coronavirus (COVID-19) outbreak and continues to observe Health Canada's recommendations.  Our first priority is the continued safety of our employees and our clients.  Public health officials continue to advise that social distancing is the most effective strategy to prevent the spread of COVID-19.  As such, we ask that you refrain from visiting our office if you have any flu-like symptoms or have travelled anywhere outside of BC within the last 14 days.
We have also changed our office hours to the following:
| | |
| --- | --- |
| Monday | 10:00 AM – 5:00 PM |
| Tuesday | 10:00 AM – 5:00 PM |
| Wednesday | 10:00 AM – 5:00 PM |
| Thursday | 10:00 AM – 5:00 PM |
| Friday | 10:00 AM – 5:00 PM |
| Saturday | Closed |
| Sunday | Closed |
Please refer back to our website or contact us for any updates prior to visiting us.
Thank you for your understanding and cooperation.
HOLIDAY CLOSURES
New Year's Day
Good Friday & Easter Monday
Memorial Day
Independence Day
Family Day
Canada Day
Labor Day
Thanksgiving
Christmas
Victoria Day
For your information, DCE has been relocated to its new address from May 1st 2016 as follows:
FREE PARKING LOTS FOR OUR CUSTOMERS
There are free parking lots for our clients in the building. Please enter the building through Northern Ave's entrance gate to park your vehicle in the customer parking area, then follow the exit door to catch The High St. Our store is located in your right side.
Lincoln Skytrain Station to DCE's Walking Route
There is only 4 minutes walking distance from Lincoln Skytrain Station on Evergreen Line to the DCE as follows: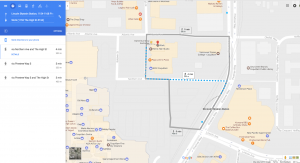 [Click on the picture to get a bigger size]